Here are some Yanhua mini acdp FAQ from users, including odometer correction, all keys lost, add keys and Key Programmer software download etc.
Q: Are there bmw-dem-adapter x2 and x1 for edc17c45 cloning read without open shell?
A: Yes. That's ACDP BMW X1/X2/X3 Bench interface board for BMW diesel engines.
Q: I will mainly clone DDE (diesel) units. Can i clone every E series DDE? What about F- series?
A: You can do that by ACDP BMW X1/X2/X3 Bench Interface Board and ECU clone software license.
Q: I want to flash mileage in bmw 35160WT eeprom. What modules should I buy to work with Mini ACDP?
A: For this function, you need to use ACDP master+ module 1/2/4+ YH35XX programmer & simulator. Module 1 and module 2 are used to reset the mileage data of BMW CAS/FEM/BDC IMMO box.
Q: Can Yanhua YH35XX Programmer + Simulator erase BMW from 2016 has chip eeprom 35160 and 35128?
A: The aim of the simulator is to replace original BMW 35160WT and 35128 VDO chips.
Q: Can I use ACDP and module 4 to adjust mileage on 2017 F20 VDO KOMBI WITH M35128WT?
A: It needs YH35128+YH35XX programmer.
Q: How to make key by ACDP master and module 1 for 2006 bmw 650i CAS 2?
A: Via OBD is ok.
Q: i want to write data to renew cas2. can i solder directly to the board since i don't have adapter?
A: If operate on the car, you can read CAS2 data via OBD. If operate for the CAS2 which has been removed from the vehicle, you'd better use CAS2 interface board (module 1) so that can read data. The BDM-ICP cable comes with module 1 can read CAS1 and CAS2, and then renew.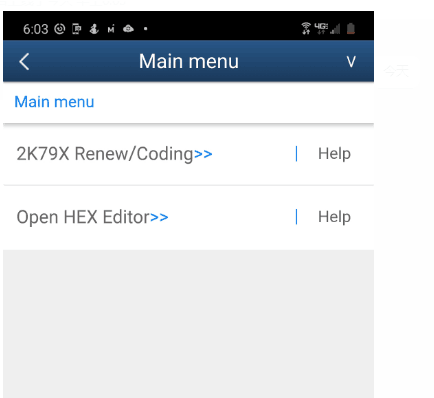 Q: Do ACDP and module 2 support all BMW F series cars?
A: Yanhua module 1 is needed as well. CAS model is included in F series. If do all keys lost, you need to use ACDP master+ module 1/2/3.
Q: What modules should I buy for programming keys to bmw e60 530d with blade key and x1 E87 without blade key?
A: Yanhua Mini ACDP+ modue1 + module3+ bench interface (N20/13/55…)
Q: Can ACDP footwell module (module 8) reset E90 0l15y? The interface cannot connect.
A: 0L15Y chip only can read and write data, cannot repair automatically. You'd better write data to code.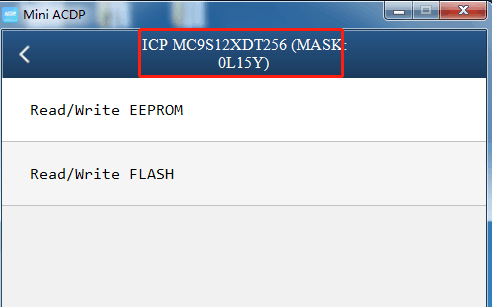 Q: Can ACDP module 8 repair BMW FRM?
A: Yes, it can repair BME 5 chassis.
Q: I want to reprogram new flash into kvm module of 2019 range rover sport. Does ACDP master and module 9 support?
A: They only can support read and write KVM module IMMO data for Land Rover from 2015-2018. The year after 2019 cannot be supported so far. If there is an original key, please tell if whether it can match new key by original one. All keys lost and new key programming are supported.
Q: Can yanhua module 13 read EEPROM and flash?
A: Yes.
Q: Copy second hand DME/DDE, and EGS both E- and F- series, all common engine and gearbox modules. Is it ok to use ACDP master, module 3 and module 11?
A: The bench interface board is also needed. B48/58 interface board can change engine.
Q: Will ACDP change VIN for Range Rover?
A: No.
Q: Does ACDP support programming BMW F series all keys lost offline and online?
A: ACDP needs to connect network, so it only supports online programming.
Q: It always prompts "Resource update" when open ACDP every time.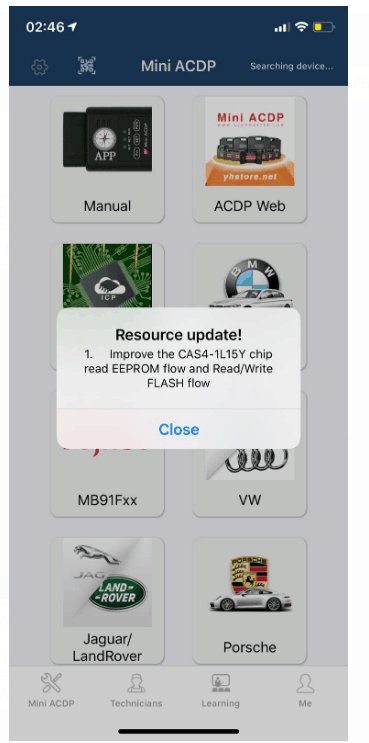 A: It's a notice to tell users the software has updated. Just click "Close" directly.
Q: What modules need to do use with ACDP to clone DME and read ISN in BMW all E/F/G chassis?
A: If just clone BMW engine, please use ACDP master+ ECU clone module+ Bench interface board+ B48/58 interface board.
Q: Can mini ACDP change VIN for 2019 Minicooper ecu?
A: Yes.
Q: I lost all the keys of my 2018 jaguar f pace. Can I use ACDP to program keys?
A: Yes. The operation guide of all keys lost is same as add new key.
Q: How does acdp fem make the key? Does it copy the signal to put into the new key?
A: The new key added can synchronize the vehicle data to the key.
Q: I want to do key learning for 2015 Bmw i8 with bdc module after pretreatment, but it prompt failed to do it after some minutes.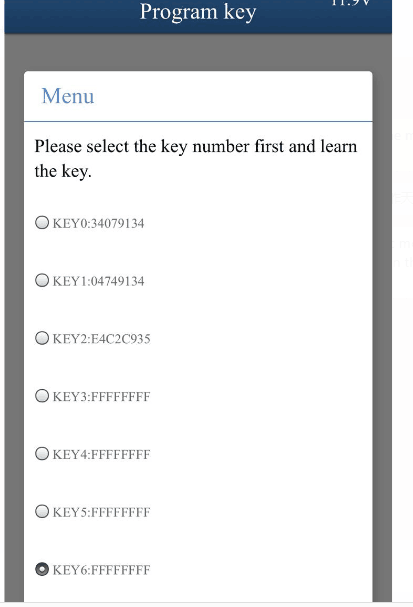 A: Maybe the key is not put well, please program key again.
Q: Can ACDP also read and write the ecu with a custom tuned ecu flash file? or is it only for backup and clone of original oem files?
A: It can't write for the customized, if you want to do that, you only can write after calculating and verifying.
Q: I click "Read mileage" to test CAS2 BMW E60 by ACDP, a message prompts that the device has been lost and the operation failed. I chseck the device and wifi are ok.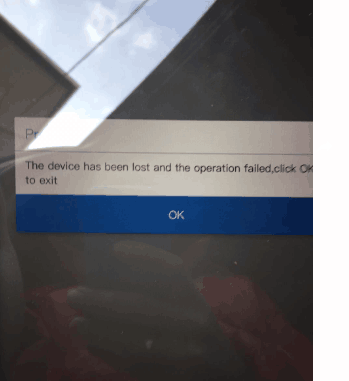 A: Please reinstall CAS2 interface board, and read mileage again.
Q: I want to use ACDP to correct mileage for BMW F 35160 WT, do I need to remove IC chip and restore? If it's CAS4 system, do I need to install filter?
A: Need Simulator to correct mileage for 35160W. For CAS4 system, no need filter, correct mileage with ACDP directly and return to zero.
Q: Iused Mini ACDP to read Cas4 EEPROM and it prompted as be
A: RES, RES-1 and GNA pins are not good connected, please use test points cleaning probes to clean.

Q: I program key to BMW X1 2012 CAS3 with acdp.It prompts "The device does not obtain authorization of A500 module. The module name is Anti-Theft -BMW cas4 / CAS4 + / no OBD Key match". Do I need to buy other ACDP modules?
A: No need. Module 1 is ok.
Q: I cannot connect WIFI when I use ACDP Bluetooth, what's wrong?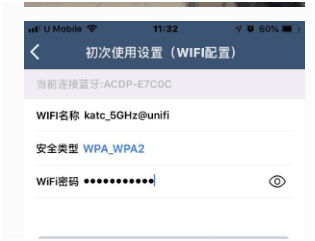 A: Delete the underscore in the WIFI name. 5G WIFI cannot support.
Q: I have a Land rover 2014 with KVM, but my KVM is locked, I need to program a key. Can MINI ACDP support?
A: Yes, ACDP can support.
Q: I want to write Porsche keys with a complete loss. Can I use acdp basic master and module 10 to do?
A: Yes, Yanhua acdp module 10 can support add keys and all keys lost.
Q: Can I use Yanhua 35160/35080 Programming Emulator to change km for BMW G Series35160WT?
A: Yes, you can.
Q: Can I bind different mobile phones with MINI ACDP?
A: Yes, you can bind multiple phones, but you can only bind one phone at a time. If you want to bind one phone, you need to unbind the previous one.
Q: How to unbind mobile phone with MINI ACDP? With my original mobile phone or in your background system?
A: Use the original mobile phone by yourself. You also can press SET button on your ACDP master to reset.
Q: Where to download Yanhua BMW FEM Key Programmer software?
A: Here is download link: http://www.yanhuaminiacdp.com/software-and-app-download/
More:Yanhua ACDP Software and Update FAQ
Q: I am trying to read cas4 with acdp, however an error message appears when reading?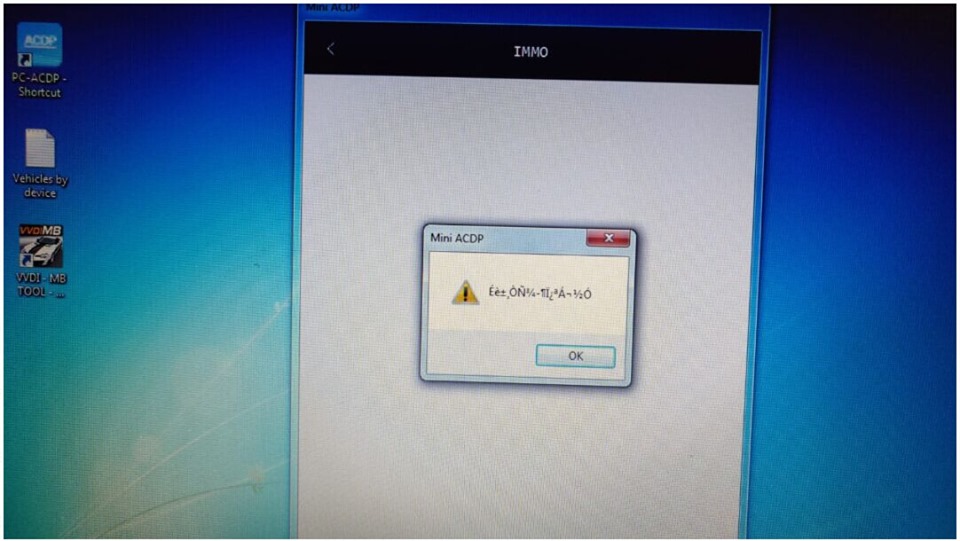 A: That because computer font library in your laptop is not complete, please fix it from your side, you can copy the less font to your laptop
Q: The d4 pin does not touch the pad of the cas module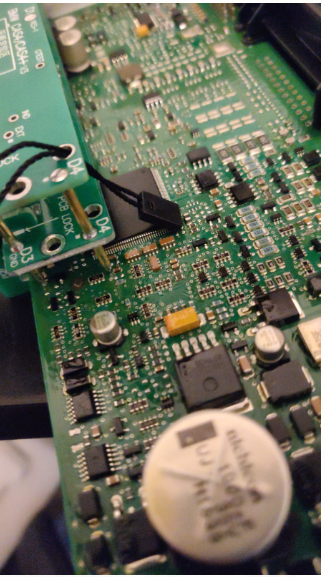 A: The D4 pin is used to set, not for data reading, you just need set it well, it is ok
Q: My car detailed info is BMW X3 F25 2011, Dashboard 160DOWT, Cas4 5mh48. Can I correct odometer with mini acdp? Which module?
A: Yes, please use mini acdp basic master, module1 and module 4.
Q: Is it available to delete used keys or use them for making new keys for other car with mini acdp? Which module should I need to use together?
A: Yes, use Yanhua acdp Module 7 to work with mini ACDP.
Q: I want to clear the ISN of second-hand transmission.VIN of my car is 5UXWX5C50BL705410, but I cannot find it in the following info. What's the Bluetooth pairing code of Yanhua Mini ACDP?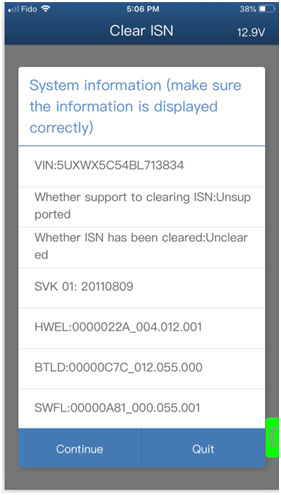 A: Just need to open Bluetooth, no need matching.
End the process and restart the ACDP software.
Q: I tried many times to connect Bluetooth to Wi-Fi, but failed. What's wrong?
A: You need to change another WIFI. The one you used is 5G which cannot support. Or turn on the mobile hotspot connection is also ok.
More Connect FAQ Check: Yanhua Mini ACDP WIFI/Bluetooth Connect Problem and Solution
Q: Which modules are for cas fem bdc ISN and dashboard?
Is 35128 already read and write?
A: For cas fem bdc isn and dashboard, they are mini acdp basic master with module 1/2/3/4/7/8/11.
For 35128, there are two kinds of situations: One is that the odometer is in the middle, acdp can support. If the mileage data is in the first two rows, you need to add an emulator.
Q: Can Mini ACDP support repairing FRM BMW? Which module is needed to buy?
A: Yes, ACDP can support. Please buy the Yanhua ACDP module 8.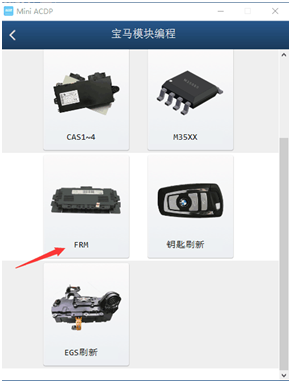 Q: I want to clone the data from old module to new one. Can I use mini acdp with module 11?
A: 6HP can support clone.
Q: Can mini acdp with module 11 clear entirely?
A: 6HP supports refresh, 8HP supports clear ISN.
Q: Can I use mini acdp to read/write ISN on MEVD 1729 (n26 on f30)?
A: Yes, you can find it from the following picture.
Q: I want to change a second-hand automatic transmission for my BMW 523I (F10) 2010. Can I use acdp to initialize?
A: 8HP can only clear ISN. 6HP can clear ISN and clone.
Q: Can ACDP do bmw synchronize the DME to the CAS Unit?
A: It can do for CAS3.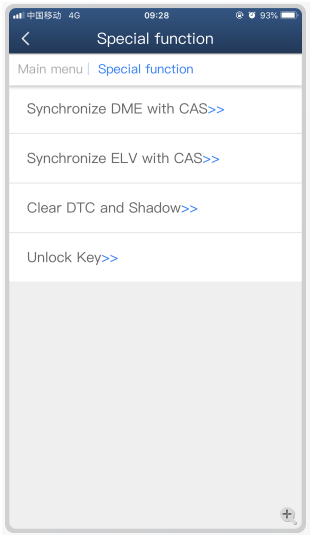 Q: When the ACDP host is equipped with the module 10 for the Porsche function, do you need to synchronize?
A: No need!
Q: Can acdp support clone?
A: It can read and write some functions of the ECU, such as ISN and VIM code.
Q: Can I use yanhua mini acdp to fix the fault frm module software?
A: Yes, you can do it with module 8.
Q: Can I modify the used FEM control unit from another vehicle for my vehicle by yanhua mini acdp and BMW ISN module 3?
If I understand well, do I need to read the ISN from DME, my keys and code it into the used FEM unit? It will work?
A:Firstly, you'd better use the version of the new FEM module close to the old one, otherwise there will be many fault codes and it will not be cleared.
Secondly, if the old FEM module cannot communicate, then the information in the new module needs to be changed same as the old module, such as VIN, frequency, etc.
Besides that, it is also necessary to read the vehicles' ISN code, and then calculate the ISN in the FEM by conversion and fill it to the anti-theft.
Q1: I have a 2009 BMW E61 I need to program a new fob I purchased. The car has an unencrypted CAS3 module and comfort access. Can I use Yanhua mini acdp to do it?
A1: You can do it by ACDP basic module and module 1.
Q2: I want to add more keys to BMW E90 2011, which module should I buy to work with mini acdp?
A2: Yanhua Mini ACDP CAS module 1.
Q3: Can I read B38 ISN by opening DME shell by acdp with module 3 and B38 decryption adapter?
A3: This option is reading isn by opening DME shell, no need interface board. If want to use B38 interface board, please select "Bench mode read/write DME ISN".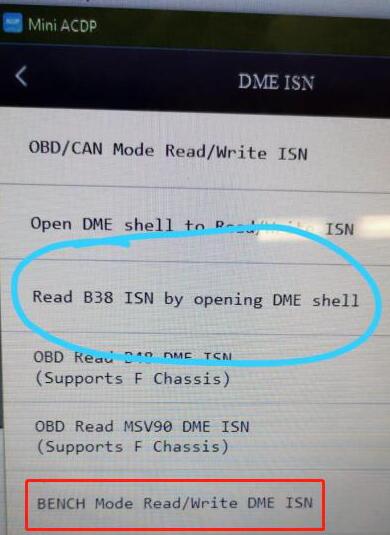 Q: Can i do key programming on the new KVM of Range Rover by mini acdp as the picture below?
A: The new type need to change blank chip, and then use Yanhua Mini ACDP software and adapter to write data
Q: Can i use ACDP to replace BMW DME or CAS3+?
A: Yes. Select ECU clone and data recovery together.
Q: I had a dead battery in my car and i think the FRM2 is corrupted. My driver side window block module and side mirrors stopped working. I want to program BMW FRM 2 Module. Does ACDP support? Which module should i buy?
A: Yes, you can use Yanhua Mini ACDP + ACDP BMW FRM module (module 8) + BDM01 adapter